TSC MX241P Series Thermal Printers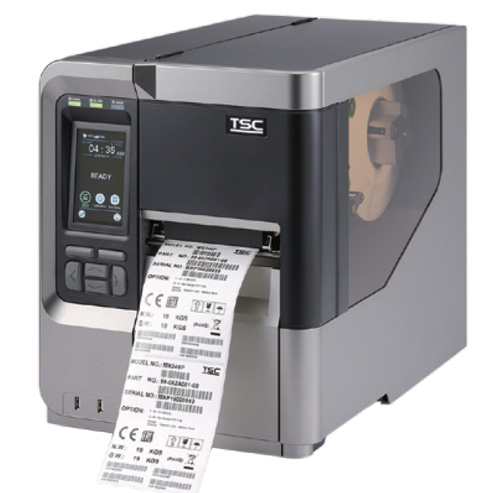 The MX241P Series industrial thermal printer is ruggedly built for high volume, high quality, label printing. Featuring our fastest print speeds ever, the MX241P Series boosts productivity with faster processing power, communications and printing speeds. It is ideal for applications that include manufacturing, logistics, shipping, and product identification.
Sophisticated TSC Sense Care
TSC Sense Care can auto scan and detect printhead bad dots during the printing process and support both top and bottom black mark sensors for switching easily.
Dynamic Remote Printer Management
SOTI Connect and TSC Console provide enterprise printer management to manage multiple tasks, reduce maintenance costs and avoid downtime of business-critical devices.
Rugged Design
Rugged design with die-casting structure ensures stable media path for outstanding print quality and accuracy. The powerful peel-off capability fits various label sizes.

Multi-Connectivity
MX241P series offers GPIO to support mainstream connector and emulations and optional 802.11 a/b/g/n/ac Wi-Fi with Bluetooth 4.2 combo module.
High-Performance
MX241P Enhanced media drive module with strong belt makes sure high print quality with high speed (up to 18 ips) with less noise and features precise media registration in Tear-off mode (min. 3mm label length).
Features
Heavy duty die-cast aluminum design
Fast 536 Mhz processor
Faster print speed - up to 18 ips
4.3 inch color TFT touch panel with 6-key button design for new GUI
Precise media registration in Tear-off mode (min. 3mm label length)
Available in 203 dpi, 300 dpi and 600 dpi resolutions
512 MB Flash and 512 MB SDRAM memory
600 meter ribbon capacity
TSPL-EZ firmware for plug-n-play ease
Precise media registration in Tear-off mode (min. 3mm label length)
Wireless communication interfaces: Supports either MFi Bluetooth 5.0 or 802.11 a/b/g/n/ac Wi-Fi with Bluetooth 4.2 combo module
Support mainstream GPIO connector and emulations
SOTI Connect and TSC Console for printer management
ENERGY STAR® qualified
Models
MX241P - 203 DPI, 4.09 inch max print width, 1,000 inch max print length, 18 IPS max print speed
MX341P - 300 DPI, 4.09 inch max print width, 450 inch max print length, 14 IPS max print speed
MX641P - 600 DPI, 4.09 inch max print width, 100 inch max print length, 6 IPS max print speed
Dimensions
300 mm x 393 mm x 510 mm / 11.81 inch x 15.47 inch x 20.08 inch
Weight
18kg / 40 lbs
Factory Options
Internal full rewinding kit ( Max. 8" OD )
Internal Bluetooth 5.0 MFi
Dealer Options
Peel off module assembly
Regular guillotine cutter
Rotary heavy-duty cutter
GPIO (DB15F) + Parallel interface
User Options
KP-200 Plus keyboard display unit
802.11 a/b/g/n/ac Wi-Fi with Bluetooth 4.2 combo module
Universal cutter tray
Accessories
Internal rewinding kit
GPIO + Parallel interface
Peel-off kit
Regular cutter (full cut guillotine cutter)
Heavy duty guillotine cutter
Wi-Fi with Bluetooth combo module
Support, Drivers, Utilities, and FAQs